Acumen is an agency offering medical marketing research as a specialism. 
This guarantees you gain the experience and research skills of a leading expert in healthcare market research, plus the knowledge and links to the health care and medical industry.
Simply being experts in qualitative and quantitative market research methodologies that get applied to all industries can only take you so far.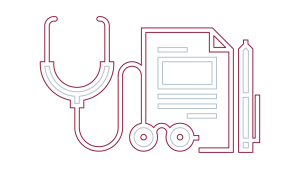 In truth, there are as many differences in conducting medical marketing fieldwork as there are similarities to other kinds of market research.
The aim might be similar in some regards – to take a research question, to find broad trends and then delve in to find deeper understanding, but the methods may be very different.
The research agency must be aware of the need to act in a different manner with research participants.
They must also understand the importance of the research they are undertaking.
All research matters, but examining questions related to health and medicine has implications that would not exist around a standard product launch or rebrand.
At Acumen, we have a dedicated medical market research team, this also incorporates a data analytics team so that the process of capturing data and analysing are completely joined up
By creating a team that specialises purely in medical market research projects, we have been able to take on the most challenging of projects.
Medical Research Agencies
Medical marketing research companies have to understand the unique set of challenges that accompany this form of market research.
The basics still apply, world-class qualitative and quantitative research methods and the knowledge to know which to use and when and then how to acquire the insights that are needed to inform the wider project.
Methods of data capturing from medical market research companies will include interviews, focus groups, case studies and more.
However, the researcher must also be aware of the need for sensitivity and care, much of the information being sought might be of a personal nature.
A participant might feel embarrassed or reticent to divulge or to be truly honest.
This has to be handled with care and sensitivity, to ensure accurate data is captured but in a manner that is fair to participants.
Asking someone about their favourite trainer brand, or why they prefer ITV drama to Netflix, is very different to delving into a private issue relating to health or wellbeing.
However, the agency chosen for research must also have access to participants who are relevant and can provide the required insight.
We are one of a small number of UK agencies who have access to our own separate database of healthcare users and participants and so can quickly find those who are suitable for medical market research questions.
Candidates can be pulled into pharmaceutical market research focus groups, used for in home or in-work interviews or asked to complete participant diaries.
For medical research questions, the biggest challenge some agencies will face is finding participants – often they will have a huge network to call upon relating to business, or website use, but not distinct groups of healthcare users.
Research and consulting on Medical and Healthcare Questions
Market research relating to the medical profession and industry can have a range of uses, including.
Ensuring that existing products and services are fit for purpose and to identify any issues. Research can also suggest how to iterate and improve on existing offerings and which elements to prioritise.
The launching of new services and products. This is always a key element of market research agencies' work, but special care is required when working on products or services that have medical implications.
Lower down this page, we have details of how we worked to provide the research that helped shape a new medical app launch.
Evaluate knowledge relating to services and products. Are those who would benefit aware of a product's existence aware of its benefits? All too often, a superb product has failed to have the impact it otherwise might because of a lack of overall awareness. research can find this missed opportunity.
Expand into new markets. Can medical products and services be refined or improved to make them suitable for a wider, or new market? Is all that is required an awareness programme?
Find new opportunities – what is missing from the market, what are potential useful additions? Speaking to users will often show up needs that may otherwise not have been thought of.
Gain data from the real world on the usage of services and products. Do people use services, medication they are prescribed or apps? The right form of qualitative data research is essential as often people will say they act in one way, whereas the reality is different.
Qualitative and Quantitative Methods for Medical Market Research
The best methods for pharmaceutical market research will always vary by project and would be decided upon in a detailed conversation between the client and research companies.
However, typical approaches include:
Focus group / interviews
Usability studies
Health economics and outcomes research
Participant diaries
Fieldwork research with healthcare users, patients and carers
Fieldwork research with healthcare professionals, in all industries and all levels of seniority.
As experts in healthcare research, we utilise the following approach to medical market research in order to provide a full service.
We discuss your requirements and take the time to fully understand your requirements. Having a specialist team is of huge benefit, it means that we always have relevant experience on projects similar to yours. However, we also appreciate that no two projects are the same and need a unique approach. We can advise as to the best methods.
We create all documentation, this will include a full schedule and screening questionnaire.
Healthcare users and professionals who will provide the level of insight required are sourced by us – our database of healthcare users and professionals a huge advantage.
Full feedback on the recruitment process is given. We are committed to providing feedback at every stage and can present data and findings in the formats you require as you need them.
All venues are sourced by us as required, so too people to assist on the day of the research
Once recruitment is completed, you would receive full participant profiles
As shown by the awards we have won for innovation, we also utilise modern approaches as appropriate.
An example of this market research was in looking at healthcare app usage – it was sensible  to seek out participants via social media campaigns, anyone responding via social media likely to have a high propensity to then be someone who would be a dedicated app user.
Case Studies for pharmaceutical market research
To get a sense for our past research projects, please take the time to view the detailed case studies below.
The case study for blood born viruses saw us work on a project to explore the pathway to recovery for people with Hepatitis C who also inject drugs.
A key challenge was finding participants that were also in the geographical area required by the brief.
Our database of healthcare and pharmaceutical users was of great benefit and enabled us to quickly ascertain the feasibility of the study.
A separate research project saw us work with a pharmaceutical company who had developed a new app, the aim to see if the app was providing the help and support intended.
The research was looking at uses of asthma inhalers, an app requiring people to submit data, this then anonymised to show patterns of use.
Again, our database of users for market research was beneficial, but we also turned to social media to find further participants – our knowledge of digital methodology meant we were confident that there would be a strong correlation between those responding on social media who would then be comfortable with app usage.
Further details of this case study
About Acumen
Our large medical marketing research team is on hand to help with all your research queries. We've got years of experience working with a wide range of healthcare users and companies who work in this field.
Our award-winning pharmaceutical market research team has been recognised throughout our industry, with a reputation for lateral thinking and problem solving that seeks to answer the questions at the heart of your brief.
We provide a tailored, full service approach which begins from our earliest conversations and continues with your dedicated project manager who will keep you updated throughout the research process.
We're happy to discuss any research methodology and will provide transparent and practical advice on the feasibility of your project.
Further details on our healthcare research services
Please call us on 0161 234 9440 or use our Contact Form to discuss your requirements for market research.