The events of the past week can't be understated. The news of the spread of Coronavirus to the UK and the World Health Organisation recognising it as a global pandemic has forced everyone around the world to reassess almost every aspect of their lives.
At Acumen we've had to enact a number of contingency policies to ensure the safety of our staff, clients and all of the supply partners and participants that we rely to conduct our research. We're grateful that, for now, the impact has been minimal and inconvenient - in comparison to the differing scenarios unfolding globally.
In times like these many of us are reaching out for answers, advice and solutions. As people who work in market research we have a deep understanding of that drive. We also wanted to know, not just about the virus, but the every day impact that an event like this has on us - at a personal level and at a national level.
We decided to distribute a survey via our recruiting partners, Research Opinions, to try and get a better picture of the view from the UK. Here are some of their responses: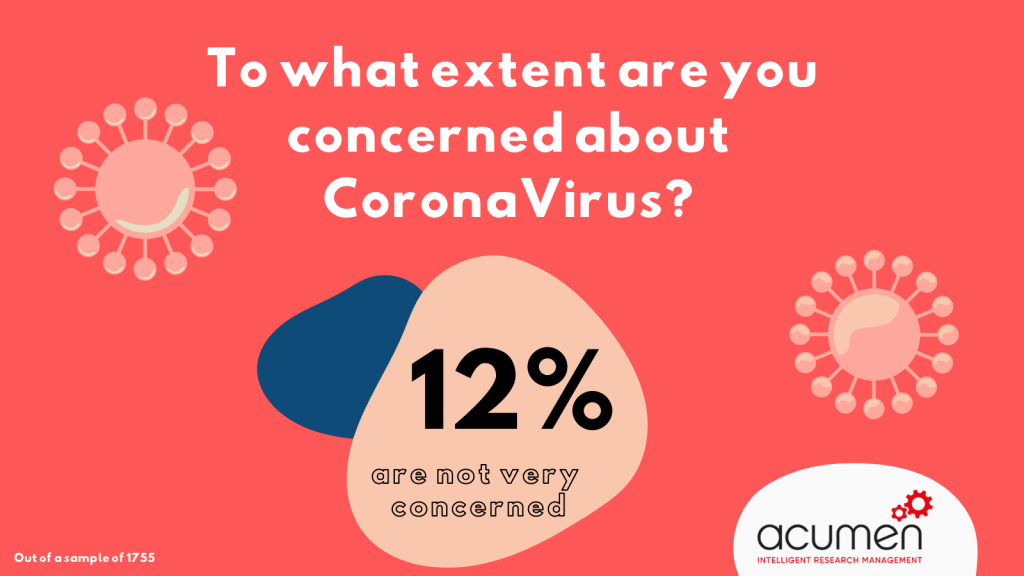 Some of the statistics were reflected in the verbatim responses we recorded:
I'm concerned that things are even worse than we are being told. That the government aren't acting quickly enough and there will be many deaths.
The effect on the vulnerable and those who are self employed. I'm concerned as a health worker in a hospital too. Seeing empty supermarkets is something I never would've expected to see in my lifetime.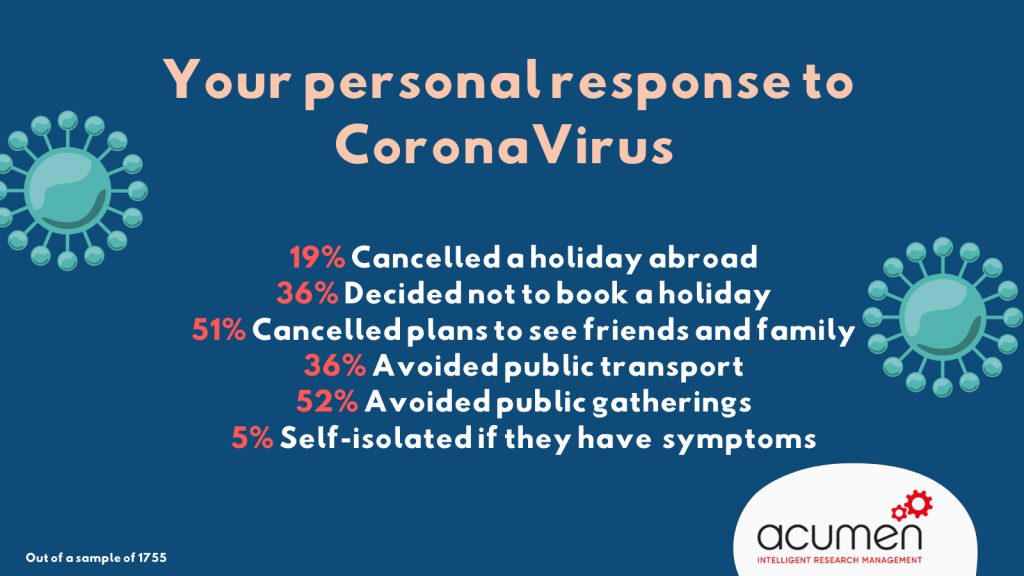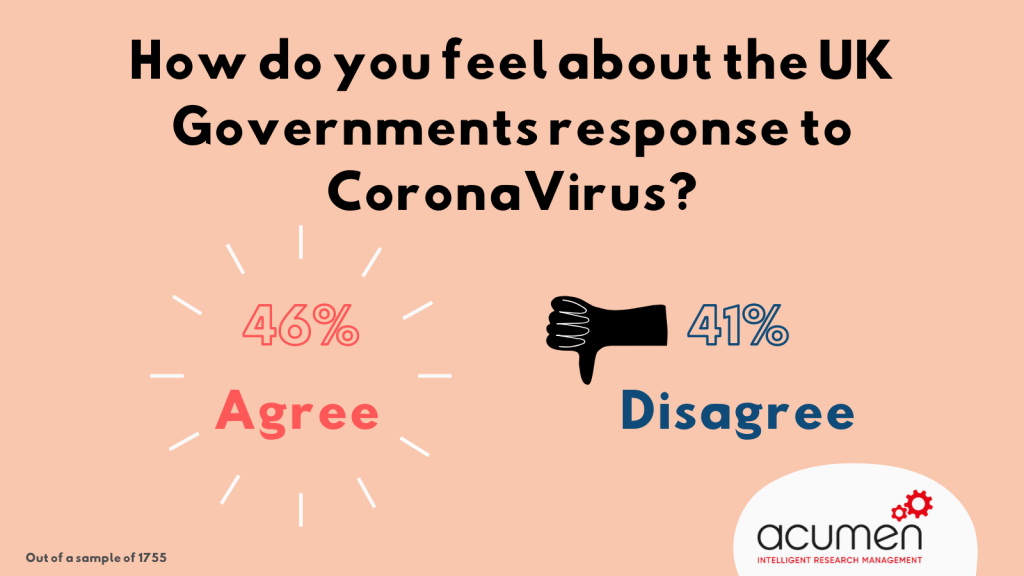 There were almost equal levels of support and discord with the governments response to the outbreak:
I am less concerned today than I have been over the last 2 weeks. The government has finally taken this pandemic seriously but their measures are too little, too late and do not go far enough. 
Mixed information given and different countries adopting different strategies. 
The panic is more concerning. The measures being taken are limiting income. I feel there is more scaremongering than actual facts.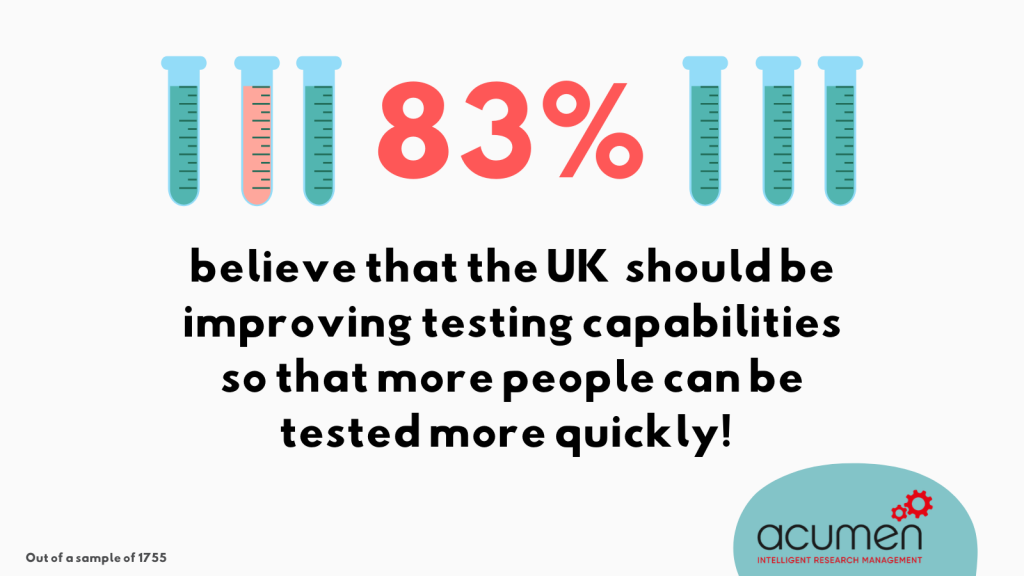 Everyone should have access to testing so they can self isolate even if they have no symptoms. At the moment even people with symptoms are not being tested and are just told to stay at home.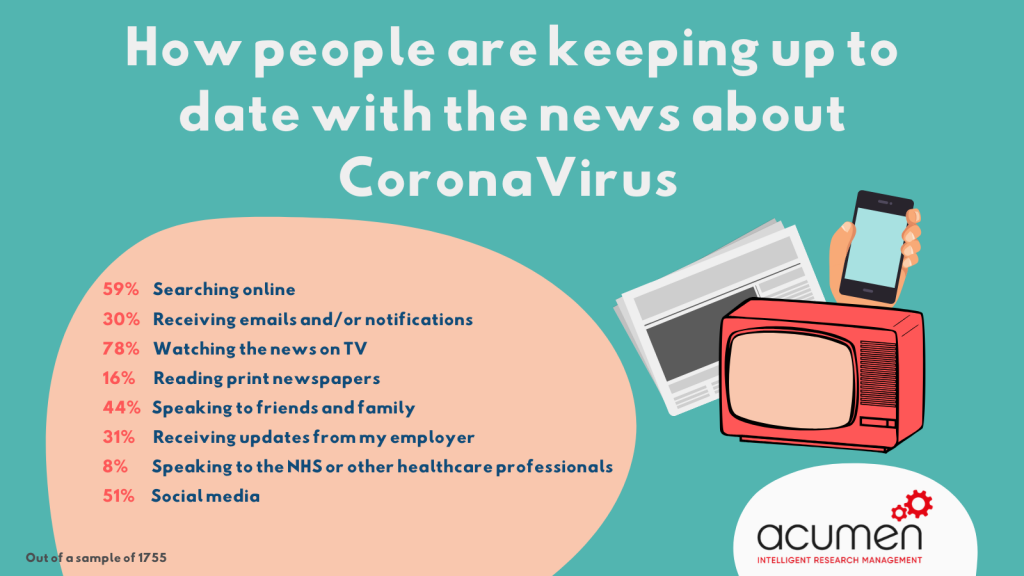 I think a lot of this is hysteria but it's hard not to feel concerned when you hear about it 24/7.
I'm sure if everyone is careful with hygiene and isolating if they are unwell, then the spreading of the virus will be limited. Unfortunately we live in a selfish, greedy world where people have never practiced good hygiene and aren't going to start now. Or they're going over the top with panic buying; leaving others in want. The virus itself isn't the problem.