Acumen are delighted to share the results of our first "Coronavirus Impact Report". This first piece of research, looking at how public attitudes towards market research are likely to be affected by the ongoing pandemic, is being shared freely with our friends and colleagues within the research industry as we all attempt to adjust to our new normal.
Our flagship study has been conducted with a sample of the British population in an effort to understand what factors they will be considering as the country moves out of lockdown and we look to begin conducting market research again.
What did we do and who did we speak to?
Our research took the form of a short online survey sent to a national database of participants who have opted in for market research projects. The survey took approximately 5 minutes to complete and specifically queried attitudes and sentiments around participating in market research once restrictions have been relaxed in the near future.
What did they say?
The purpose of the research was to understand the public perception towards various market research related activities and to see how people felt about them in relation to other everyday activities.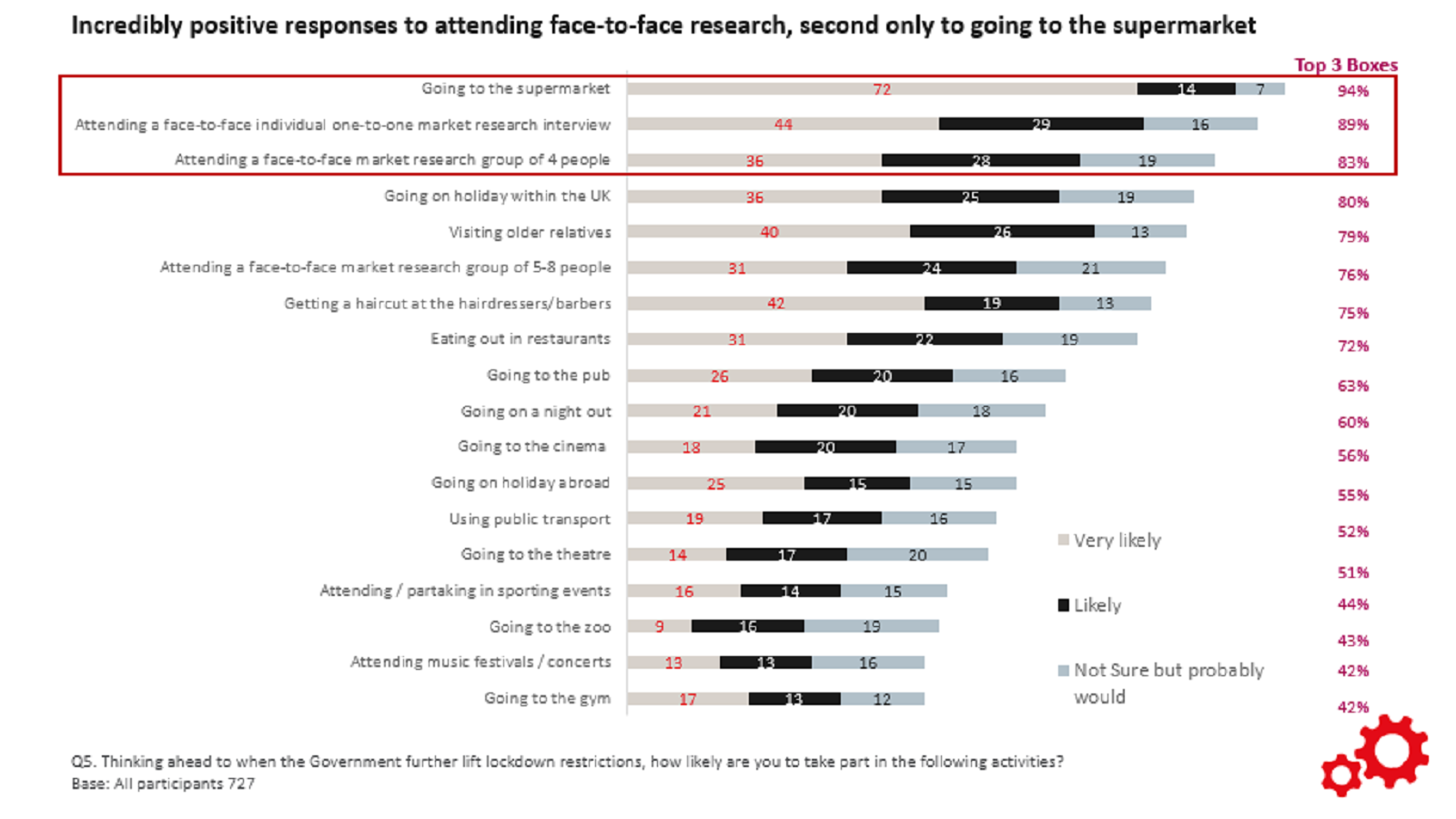 Our first finding will be certain to give some comfort to our colleagues in the research industry as our sample viewed individual face-to-face research as being second only to visiting a supermarket for activities that involve social contact.
Focus groups with 5-8 people were also favoured above visiting the hairdressers to get a haircut - and we've all read the reports of how desperate people have been feeling about that.
It isn't quite as good news for large public events where you might anticipate interacting with large volumes of people in an uncontrolled environment. On this, visiting the zoo, attending music festivals or concerts and going to the gym were the least favoured activities of our sample as they contemplate what they'll be doing when they're returning to their day-to-day activities.
Risk reduction
When we asked our sample about what measures could be put in place to make them feel safer and more comfortable when attending a face-to-face focus group or interview our sample were very clear in their view that social distancing was certain to put them at ease.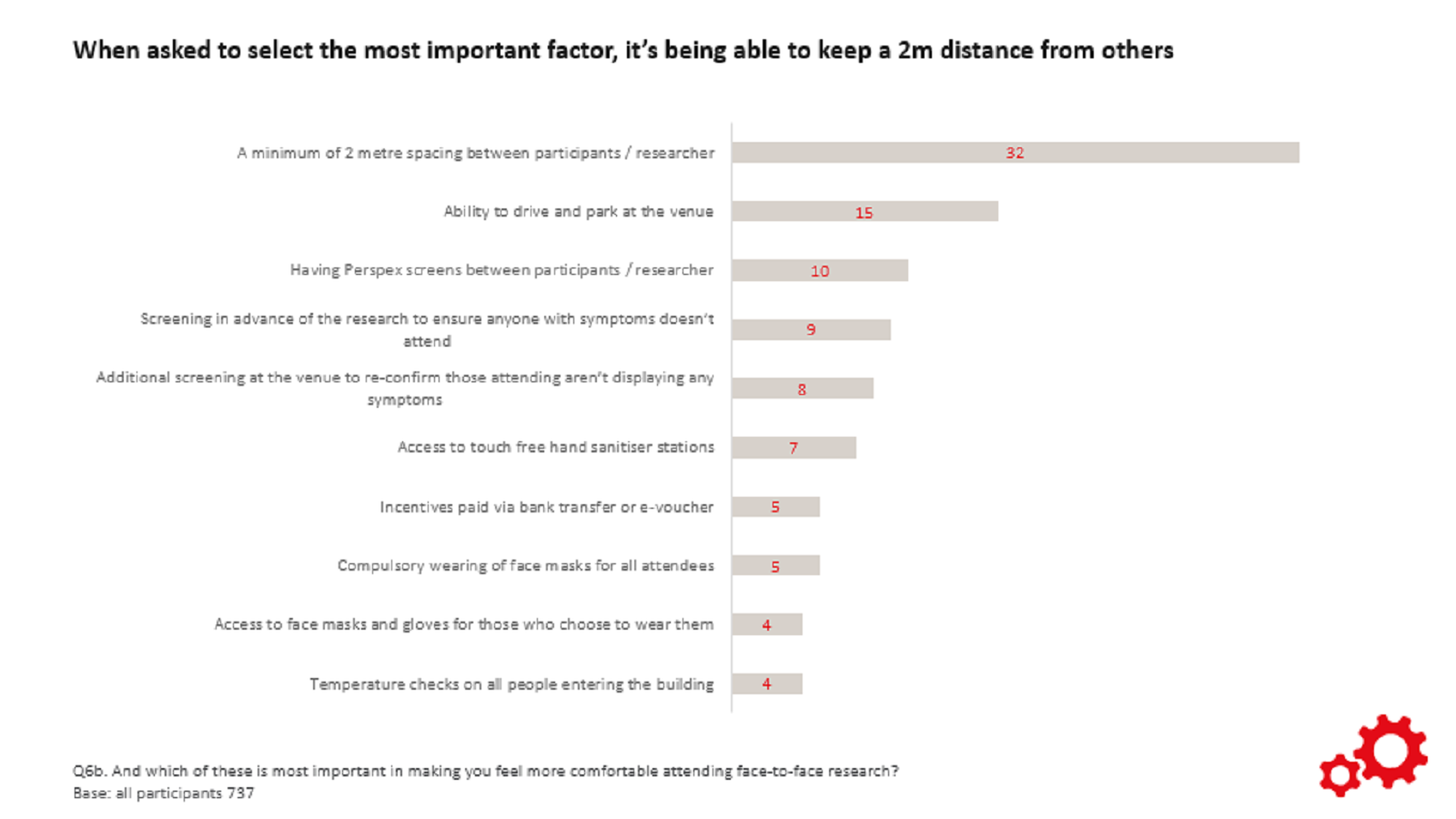 This answer received more than twice the positive response of the next most favoured option - having the ability to drive and park at venues. This may become a key consideration for the wider market research industry as we consider how to move out of current lockdown position and begin to plan future market research projects.
Any other considerations?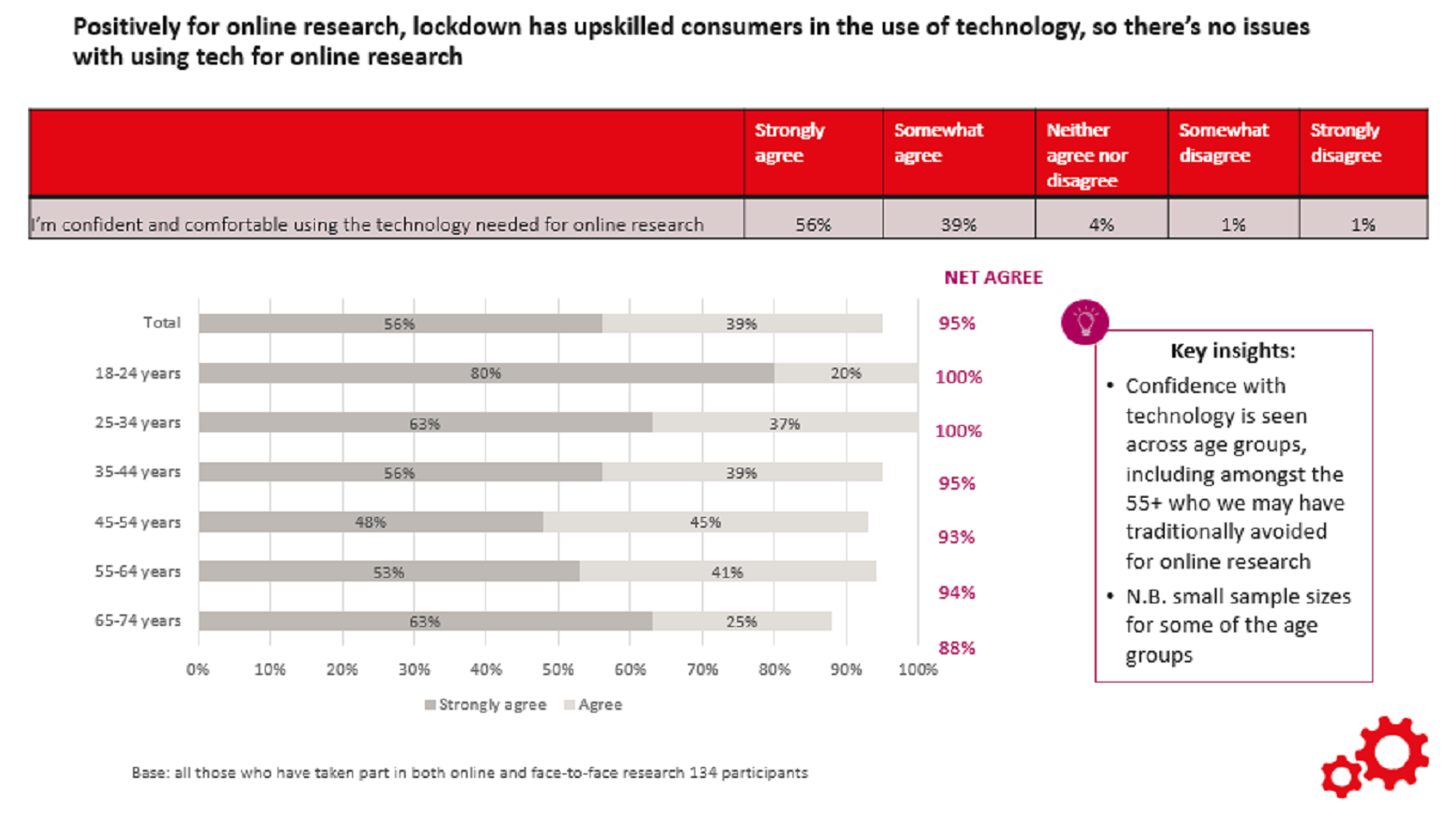 Online research has been the champion methodology for the past few months. Thankfully for researchers it also seems that participants have been able to adapt to this very quickly with high levels of confidence across age groups including those aged over 55 who may have previously avoided studies with this method. When asked to state their levels of confidence we see high levels of agreement amongst all participant groups indicating that this is a change that people have really embraced in this new environment.
If you would like to know more about our research or if you would like to see the full report of our findings then please send an email to enquiries@acumenfieldwork.com and we will be happy to send you our complete results.